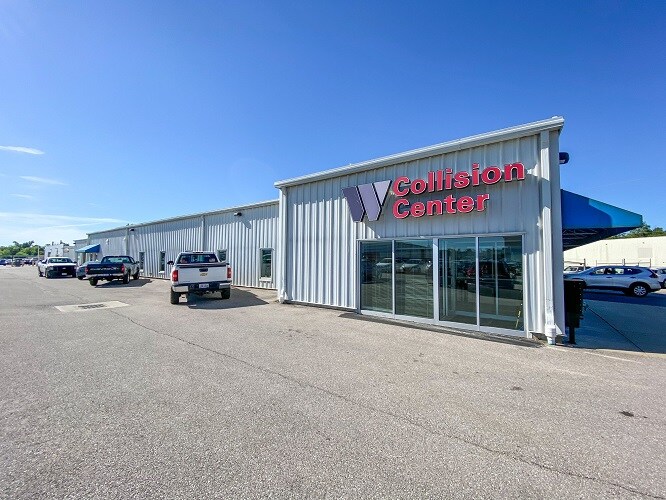 Welcome to our state of the art Jeff Wyler Eastgate Auto Mall Body Shop and Collision Center, located in Eastgate and serving greater Cincinnati, OH. Our body shop has a highly experienced team of technicians that stand apart from comparable body shops in the Cincinnati area. We work along side all auto insurance companies, and have loaners available to quickly meet your needs. Call us today for impeccable service at an affordable price and to schedule your appointment for your free estimate.
Contact Body Shop
* Indicates a required field
Auto Body Shop in Cincinnati
If you have been recently involved in an accident or fender-bender and need some body shop and collision repair completed, you have found one of the highest online rated auto body shops in Cincinnati. We offer complete auto body repair services for cars, trucks, vans or SUVs that have been in an accident, need paint and body repair, require paintless dent repair, dent removal, car painting, collision repairs, and auto glass replacement. We are open through the week for free estimates, and we have working relationships with most of the major auto insurance companies to assist you in handling your insurance claims. Remember - you get what you pay for - and at Jeff Wyler Eastgate Auto Mall Body Shop and Collision Center, you can rest assured that you are working with one of the highest online rated body shops in Cincinnati and the surrounding region.
Common Paint and Body Repairs
Our professional technicians are highly trained and have expertise in both minor and major collision damage, including scratches, dents, rust, and more. In most cases, dent repair can be fixed within a few days and look as good as new. We also have trained technicians who handle expert frame and unibody repair. When it comes to scratch repair, paint scratches that are minor can often be buffed out, while deeper scratches or chips in your paint may require more extensive auto painting repair, sometimes even having your vehicle repainted entirely. Custom paint jobs are also available, with our body shops using high quality paint and material to make your car stand out from the other cars on the road. Rust repair is incredibly important, as rust can quickly spread and threaten not only the appearance, but the safety of your vehicle. Our body shops and collision centers can help you with rust repair and lengthen the life of your vehicle. Call us and ask us about dent repair, dent removal, as well as paintless dent removal and repair.
Body Shop Estimates in Cincinnati
One of Jeff Wyler's experienced body shop personnel will make a close inspection of your vehicle and ask you some detailed questions as they prepare your free body shop repair estimate. We utilize a computer system to provide the most accurate appraisal that we can assemble, and we can assist you with working with your insurance company for handling any claims. Our computer program will provide an estimate of time, labor, and material costs to repair your car, truck, van or SUV to a safe and presentable condition. Some repairs might require removing and re-installing parts to gain access to areas of your vehicle that need collision repair. Some repairs might also have small charges for hazardous waste removal if applicable to your situation.
The Jeff Wyler Body Shop Guarantee
Our body shops and collision centers guarantee all labor against defects in workmanship for the life of your vehicle as long as you own it. Parts and materials are guaranteed by their individual manufacturers for various lengths of time and/or mileage. Many of our highly satisfied customers come from Cincinnati, Beechmont, Anderson, Georgetown, Loveland, Mason, Milford, Amelia, Batavia, and Hillsboro.
Your privacy is important to us.

*By providing my phone number (optional) and clicking "Submit", I agree to: (1) receive calls and texts with additional information and relevant offers from participating Jeff Wyler dealerships regarding my inquiry, at the phone number above; and (2) the Jeff Wyler Privacy Policy and Terms of Use. I understand that consent is not required to make a purchase and that message and data rates may apply. I also understand that I may opt out at any time. Jeff Wyler takes your privacy seriously and does not rent or sell your personal information to third parties without your consent.
Body Shop Hours
Monday

7:30AM - 5:30PM

Tuesday

7:30AM - 5:30PM

Wednesday

7:30AM - 5:30PM

Thursday

7:30AM - 5:30PM

Friday

7:30AM - 5:30PM

Saturday

Closed

Sunday

Closed